Biografie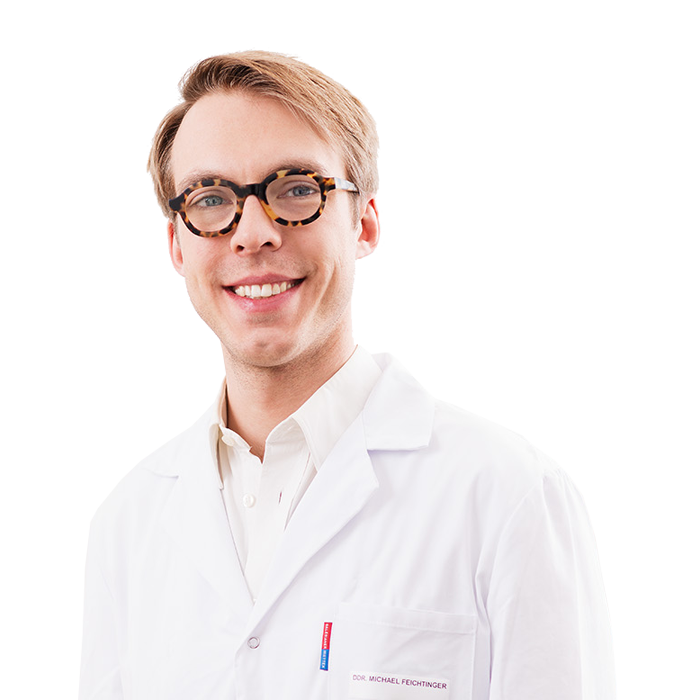 Priv.-Doz. DDr.
Michael Feichtinger
Facharzt für Gynäkologie und Geburtshilfe,
Institutsleiter
Geboren und aufgewachsen in Wien,
frühes Interesse an Naturwissenschaften und Musik
Ausbildung
Matura in einem mathematisch-naturwissenschaftlichen Gymnasium mit gutem Erfolg abgeschlossen.
Medizinstudium von 2005 bis 2012, davon 6 Jahre an der Medizinischen Universität Wien und ein Jahr am Karolinska Institutet in Stockholm.
Wissenschaftliche Kooperationen mit Prof. Kenny Rodriguez-Wallberg am Karolinska Institutet, Stockholm sowie Prof. Mats Brännström am Sahlgrenska Institutet, Göteborg. Auslandsaufenthalte unter anderem in Umeå, Schweden und Perm, Russland.
Studium der Mikrobiologie und Genetik von 2008 bis 2010. (kein Abschluss)
Von September bis Dezember 2012 Lehrpraxis am Wunschbaby Institut Feichtinger.
Von Dezember 2012 bis Dezember 2017 Assistenzarzt an der Universitäts-Frauenklinik der Medizinischen Universität Wien.
"Chief-Resident" an der Universitäts-Frauenklinik von Oktober 2016 bis April 2017.
Von Oktober 2014 bis August 2017 Doktoratsstudium der Angewandten Medizinischen Wissenschaften an der Medizinischen Universität Wien im Themenprogramm "klinische Endokrinologie, Metabolismus und Ernährung" mit Auszeichnung bestanden; Dissertation zum Thema "Neue Therapieansätze zur Steigerung der Fertilität bei unfruchtbaren Frauen".
Von Oktober 2016 bis Juni 2017 Lehrgang für Gesundheitsmanagement an der Donau-Universität Krems.
Absolvierung eines Fellowships an der reproduktionsmedizinischen Abteilung des Karolinska Universitätsspitals Stockholm, Schweden von April bis Juli 2016. "Young Ambassador" der ESHRE (European Society of Human Reproduction and Embryology) 2016.
Erlangung der deutschen Approbation im April 2017. Von Mai 2017 bis November 2017 Assistenzarzt an die gynäkologische Abteilung des Hufeland Klinikums, Bad Langensalza, Thüringen, Deutschland.
Facharztprüfung zum Facharzt für Frauenheilkunde und Geburtshilfe im November 2017 in Jena, Deutschland.
Seit Jänner 2018 Facharzt am Wunschbaby Institut Feichtinger.
Seit Februar 2018 Post-Doc am Karolinska Institutet (Department of Oncology-Pathology), Stockholm, Schweden.
Seit Mai 2018 Institutsleiter, Wunschbaby Institut Feichtinger
Seit Dezember 2018 habilitierte sich DDr. Feichtinger im Fach Frauenheilkunde und Geburtshilfe an der Medizinischen Universität Wien
Lehr- und Vortragstätigkeit
Lehrtätigkeit für Studenten im 3., 5., und 6. Jahr an der Medizinischen Universität Wien von 2013 bis 2017.
Lehrtätigkeit an der FH-Campus Wien im Hebammenstudiengang zu den Themen Schwangerschaftskomplikationen und Embryologie seit 2014.
Betreuung mehrerer Diplomarbeiten an der Universitätsklinik für Frauenheilkunde.
Vorträge an zahlreichen nationalen und internationalen Kongressen.
Wissenschaftliche Schwerpunkte
Präimplantationsdiagnostik
PCO-Syndrom
Endometriose
wiederholte Fehlgeburten
Fertilitätserhalt
Gynäkologische Transplantationen
Kinderwunschbehandlung bei Patienten und Patientinnen aus dem arabischen Raum
Kinderwunsch und Reproduktion bei Stoffwechselstörungen
Reproduktion und Schwangerschaft nach Magenbypass
Sprachen
Deutsch (Muttersprache)
Englisch (fließend)
Italienisch (fließend)
Schwedisch (fließend)
Russisch (Grundkenntnisse)
Förderungen und Stipendien
Stipendium für das Europäische Forum Alpbach 2009
ERASMUS Stipendium 2011/12
Top-Stipendium vom Land Niederösterreich 2011
Medizinisch Wissenschaftlicher Fonds des Bürgermeisters der Stadt Wien 2014
Ferring Wissenschaftspreis für den besten jungen Vortragenden
Österr. Gesellschaft für Reproduktionsmedizin
Eisenstadt 2016
Veronika Fialka-Moser Diversitätspreis in der Kategorie Forschung 2017
Sonstiges
Masterclass in Vacuum Assisted Delivery; Vacca Research, 2013
International Russian Language and Culture Courses Certificate (Lomonossow University Moscow)
Creativity: Music to my ears, Stanford University online course, 2014
Statistics for Medical Professionals, Stanford School of Medicine 2015
Writing in the Sciences, Stanford School of Medicine 2015
Kolposkopiediplom, AG-CPC 2016
ÖGUM Stufe-1 Ultraschall Zertifizierung 2017
Principles of Fertility Preservation for Reproductive Health Providers Certificate Course – American Society of Reproductive Medicine 2017
Fortbildungsdiplom der Ärztekammer Wien
Sedierung und Notfallmanagement Zertifikat 2018
Hobbies
Posaune (Jazz, Klassisch, "Wiener Konzertvereinigung", "Opernwerkstatt")
Singen
Gitarre
Natur
Reviewertätigkeit für internationale Journale
Prenatal Diagnosis
Journal of Assisted Reproduction and Genetics
Archives of Gynecology and Obstetrics
ESHRE Guideline for Premature Ovarian Failure
Publikationen
Aktuelle Liste aller Originalarbeiten unter folgendem Link:
https://orcid.org/0000-0001-6453-9281
Übersichtsarbeiten:
Neurogenic differentiation of amniotic fluid stem cells.
Rosner M, Mikula M, Preitschopf A, Feichtinger M, Schipany K, Hengstschläger M. Amino Acids 2012 May;42(5):1591-6.
Metabolic and Reproductive Consequences of the Polycystic Ovary Syndrome (PCOS)
Feichtinger M, Stopp T, Göbl C
Wien Med Wochenschr. 2016 Mar;166(3-4):139-42.
Fertility preservation in women with cervical, endometrial or ovarian cancersFeichtinger M, Rodriguez-Wallberg K.
Gynecologic Oncology Research and Practice 2016 Jul 27;3:8.
Uterustransplantation – pro und contra
Feichtinger M
Gyn Aktiv 2016, 6, 48-49
Bariatrische Chirurgie: Einflüsse auf Reproduktion und Schwangerschaft
Göbl C, Feichtinger M
Speculum - Zeitschrift für Gynäkologie und Geburtshilfe 2017; 35 (3) (Ausgabe für Österreich), 17-19
Gynäkologische Transplantationen – Zukunft der operativen Gynäkologie oder Ressourcenverschwendung?
Feichtinger M
Praktische Gynäkologie 2017, 6, 489-494
Abstracts:
Reduced ovarian sensitivity but maintained cumulative live-birth rates after IVF/ICSI with SET in women with endometriosis
Feichtinger M, Nordenhök E, Olofsson J.I., Rodriguez-Wallberg K.A.
Hum. Reprod. (2017), 32 (suppl 1): i1-i502 doi:10.1093/humrep/32.Supplement_1.1
Pre- and Peripartal Management of a Woman with McArdle Disease: A Case Report and Literature Review
Stopp T, Feichtinger M, Eppel W, Stulnig T, Husslein P, Göbl C
Geburtshilfe Frauenheilkd 2017; 77(05): 524-561
Allogeneic transplantation of ovarian tissue with sole use of novel immunomodulator, preimplantation factor (PIF), restored ovarian function in baboons
Feichtinger M, Barnea E.R., Nyachieo A., Brännström M., Kim S.S.
Fertility and Sterility (2016), Volume 106 , Issue 3 , e375
Oraler-Glukose-Toleranz-Test nach Magenbypass ist ineffektiv zur Diagnose von Gestationsdiabetes
Feichtinger M, Stopp T, Hofmann S, Springer S, Pils S, Kautzky-Willer A, Kiss H, Eppel W, Tura A, Bozkurt L, Göbl C
44. Jahrestagung der Österreichischen Diabetes Gesellschaft – Salzburg, 19.-21. November 2016
Wien Klin Wochenschr 2016;128(Suppl 6):S404
Reproduktionsmedizinisches Outcome bei Patientinnen aus dem mittleren Osten verglichen mit Europäerinnen
Feichtinger M, Göbl, Weghofer A, Feichtinger W
J. Reproduktionsmed. Endokrinol 2016; 13 (4), 160-166
Comparison of reproductive parameters in European and middle eastern minority patients
Feichtinger W, Feichtinger M
Hum. Reprod. (2015) 30 (suppl 1): i1-i501 doi:10.1093/humrep/30.Supplement_1.1
Pregnancy rates after preimplantation genetic diagnoses on polar bodies using CGH
Feichtinger M, Stopp T, Göbl C, Feichtinger E, Vaccari E, Mädel U, et al.
Hum. Reprod. (2014) 29 (suppl 1): i1-i389 doi:10.1093/humrep/29.Supplement_1.1
VEGF und IL1RA Konzentrationen im Nabelschnurserum von Frauen mit Gestationsdiabetes
Rosta K, Hadarits O, Al-Aissa Z, List A, Feichtinger M, Sziller I, Rigo J, Somogyi A, Firneisz G, Kautzky-Willer A, Harreiter J, Bancher-Todesca D
Geburtshilfe Frauenheilkd 2014; 74 - PO_Geb04_11
Prävalenz hysteroskopisch/bioptisch verifizierter intrauteriner Pathologien bei Patientinnen mit Kinderwunsch
Trofaier M-L, Feichtinger M, Feichtinger W, Stroh-Weigert M
J. Reproduktionsmed. Endokrinol 2014; 11 (4), 211-218
IVF-freie Wochenenden reduzieren nicht die Schwangerschaftsraten. Eine retrospektive Analyse des Effektes von ausschließlich an Wochentagen durchgeführten Punktionen unter Berücksichtigung des idealen Punktionstages
Feichtinger M, Karlström PO, Rodriguez- Wallberg K
J. Reproduktionsmed. Endokrinol 2012; 9 (4), 266-279
Ovarialkarzinom bei Frauen nach Kinderwunsch-Behandlung
Stroh-Weigert M, Feichtinger M, Feichtinger W
J. Reproduktionsmed. Endokrinol 2012; 9 (4), 266-279
Mammakarzinom-Inzidenz bei Frauen nach IVF-Behandlung
Stroh-Weigert M, Feichtinger M, Feichtinger W
J. Reproduktionsmed. Endokrinol 2012; 9 (4), 266-279
Weekend-free IVF does not reduce pregnancy rates. A retrospective evaluation of treatment outcome after weekday-only punctures concerning ideal day of ovum pickup
Karlström P.O., Feichtinger M., Rodriguez-Wallberg K.
Hum. Reprod. (2012) 27 (suppl 2): ii28-ii30 doi:10.1093/humrep/27.s2.19
Effekt und Dauer der Luteal- unterstützung vor Embryo- transfer bei IVF und ICSI
Feichtinger M, Feichtinger R, Hajek J, Christ K, Feichtinger W
J. Reproduktionsmed. Endokrinol 2008; 5 (5), 285-302
Erfahrungen mit unterschiedlichen Stimulationsschemata für IVF – Eine retrospektive Auswertung
Mahrouzadeh S, Hajek J, Feichtinger M, W. Feichtinger
J. Reproduktionsmed. Endokrinol 2008; 5 (5), 285-302
Sonstige Publikationen:
Buch Kapitel "Die normale Geburt und ihre Überwachung / die pathologische Geburt", Frauenheilkunde, Christian Dadak, Facultas Verlag, 2014
News-Screen Reproduktionsmedizin
Feichtinger M.
J Gynäkol Endokrinol seit 2016 quartalsmäßig